About us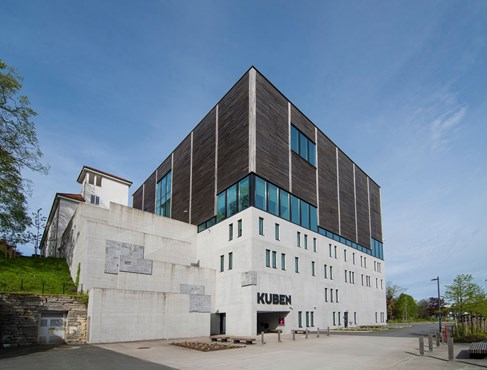 Aust-Agder museum and archive IKS,  KUBEN 
The museum in Arendal was established in 1832, making it one of Norway's oldest. KUBEN is part of Aust-Agder museum og archive IKS, located at Langsæ, Arendal, in one of Norway's most modern buildings for museums and archives. KUBEN houses exhibitions, a large collection of artefacts, archives, a library, conference rooms and reading room.
The Museum
At KUBEN we make Aust-Agder's cultural treasures accessible to the public and convey our history. The various exhibitions offer experiences for both children and adults. In several of our exhibitions, the visitors may try different activities. In addition to our regular exhibitions, we also have several changing exhibitions.
The KUBEN complex is centred around the old farmstead of Langsæ. The farmhouse was built in 1857–58 and is thought to be the oldest house in the Swiss chalet style in this region. The exterior has been painted in the original colours. Inside, the house showcases 19th century items from the museum's collections, along with specimens from its collection of old taxidermic birds. The house is open to the public during the summer.
Aust-Agder tunet
The open-air part of the museum is known as Aust-Agder Tunet. It comprises four houses: Enghavehuset, Hesthaghuset, Badstua and Klokkebua.
Enghavehuset is representative of the farmhouses in the farming and fishing communities in Agder in the late 18th century.
Hesthaghuset is a crofter's cottage originally located on the estate of the vicarage in Holt. The cottage was built in 1801. This is how the economic underclass lived, often with large families and sometimes with additional sub-tenants.
Klokkebua was built in the first half of the 19th century and was used to store materials, equipment and rigging for ships laid up during winter or undergoing repair. It also served as a sailmaker's workshop and materials store for the shipyard in Holmen in Risør.
Badstua is a combined sauna and grain drier from the 18th century. The building was used to dry both grain and meat.
The Archive
The archives are our shared memory, our shared history. They reflect acts of the past and serve as a footprint of human activity. At our reading room you can get access to the archives and books. The reading room is open for everyone. One of our friendly archivists is always at hand to answer your questions.  Read more about the reading room here.